As Featured On:

DraftKings Week 17 Leaders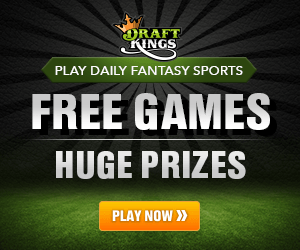 DraftKings offers the largest guaranteed cash contests and the most sports options in the industry! Register a new account and receive a free contest entry into a cash contest – same offer as seen on TV!
Join Now!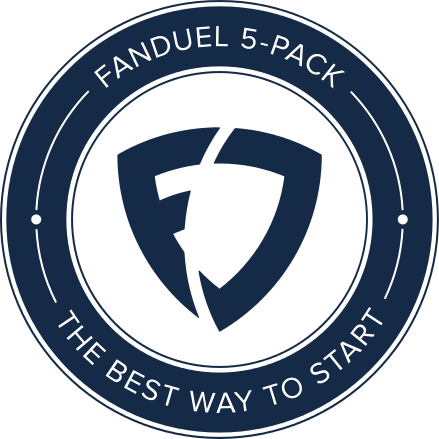 Receive 5 free cash contest entries (up to a $50 value), plus exclusive access to private, money-added tournaments!
Join Now!

NFL Red Zone Passing Stats - Fantasy Footballers.org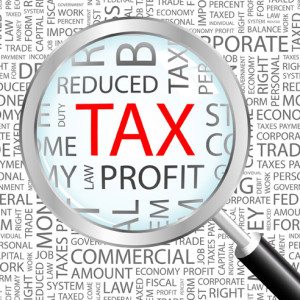 Information on dealing with fantasy football profits regarding tax returns.

DraftKings vs. FanDuel - What is the difference? Which is better?

Different from traditional fantasy football, learn the fantasy football rules and scoring systems utilized by the top online daily/weekly fantasy sports sites.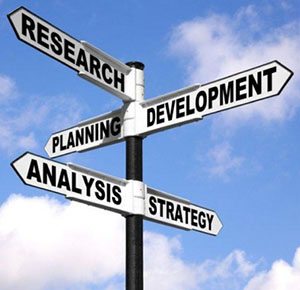 Understand the basic strategies behind real money fantasy football leagues.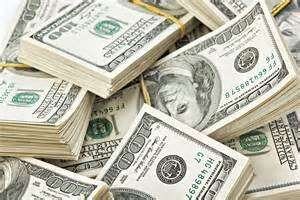 In this article we review specific strategies for winning Guaranteed Prize Pool (GPP) tournaments in daily fantasy football.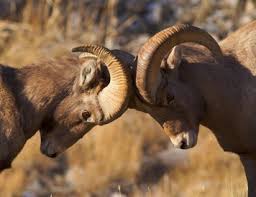 Understand the strategies specific to 50/50 and Head to Head contests for daily fantasy leagues.

Learn how to take advantage of overlay and increase your odds!
Most Recent Promotions & Events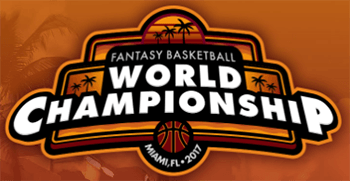 Play in the DraftKings $4 Million Fantasy Basketball World Championship on March 17, 2017, live in Miami, FL!

Draft your team and qualify for the FanDuel World Fantasy Basketball Championship on March 26, 2017, live in Miami, FL!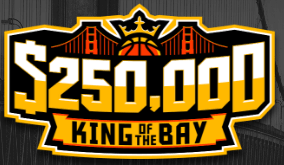 Play in the DraftKings NBA King of the Bay tournament live in San Francisco, CA!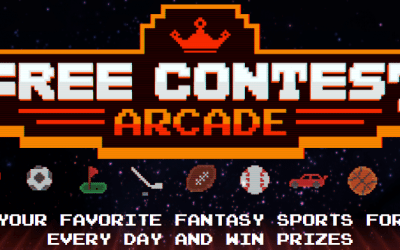 DraftKings Free Contest Arcade offers daily sports contest with various prizes! Play for free!
Play in the DraftKings $12 Million Fantasy Football Championship Series contests for weeks 16 and 17!
Enter the DraftKings Free To Play $20,000 Championship live at the Dallas Stadium Suite on December 18th!
How to Play Fantasy Football Real Money Leagues
All the fantasy football money leagues work similarly. First, you decide on which kind of contest you want complete in – head to head against one other person, or against a field of thousands of players, or anything in between! You also have to decide on the entry free or stake to play at. You can play for as little as $1 or as much as $5,000 in a single contest.
The basic rules of all the fantasy football leagues follow the same format. You are given a salary cap and 9 positions to fill. You use your salary cap to fill each position without going over the cap. Then you sit back and see if your 9 position team can accumulate more points than your competition.
Click here to read more details on how to play fantasy football dfs rules.

Fantasy Sports Wagering is Completely Legal!
When online gambling in the United States was made illegal in 2006 by the passing of the Unlawful Internet Gambling Enforcement Act (UIGEA 2006), real money wagering on fantasy sports leagues received an explicit exception. Click here to read more.
Basically, it was deemed by our government that playing and betting in fantasy leagues was a game of skill making real money fantasy leagues totally legal (yet poker was not considered a game of skill and did not receive the same exception).
US poker players got screwed, but fantasy sports fans are loving it!!! In fact, much like the poker boom in the USA and Canada that started back in 2003, the online fantasy sports industry is now enjoying a boom of its own.
It is estimated that almost 30 million fans play fantasy sports in the US and Canada and the major television and cable networks like Fox, NBC, and Comcast have actually launched fantasy sports leagues of their own.
Betting on sporting events is a lot of fun, but drafting your fantasy team and entering that team into big tournaments or head to head matches provides an entirely new level of excitement and entertainment! Not to mention you can win a lot of money (if you're good)! You can also play for free and just for fun.
Recommended Real Money Fantasy Football Weekly/Daily Leagues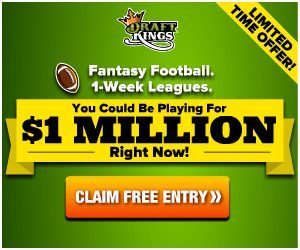 DraftKings is our #1 recommendation for daily fantasy sports! And DraftKings is the absolute best for fantasy football because it does not use a kicker as a player spot so you get a flex position instead! DraftKings has bonus scoring features for offense, and a very sweet late player swap feature. These factors make playing fantasy football and watching football, more enjoyable with DraftKings!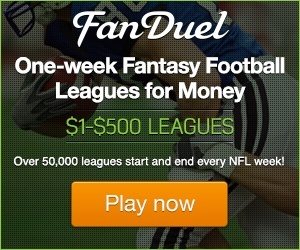 FanDuel is our 2nd highest recommendation and features an enormous amount of guaranteed tournaments to choose from. FanDuel, based in New York, is currently one of the largest daily fantasy sports with a player pool over 1 million! FanDuel has been a trusted site operating in the USA since 2011.
#1 Recommendation: DraftKings
DraftKings is our top recommendation offering the industry's biggest guaranteed tournaments and the largest variety of sports offerings!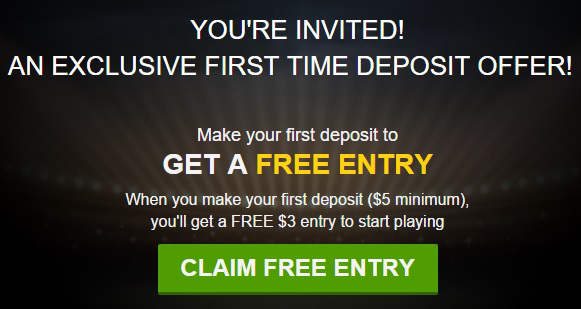 #2 Recommendation: FanDuel
FanDuel is the largest fantasy sports site in the world, offering tons of action, smooth payment processing, and the biggest guaranteed prize pools.
We offer the largest bonus possible from FanDuel.com, available to all new customers! Receive 5 weeks of free entries into real money contests (up to a $50 value)!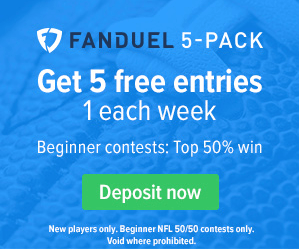 We recommend the following sites for more online fun!
If you like poker, visit the poker forum at FlopTurnRiver.com for fun and strategic poker discussions!
Americans are often confused on where they can bet or gamble online. We recommend visiting Online Casino USA Bonus for reviews of US-friendly sportsbooks and casinos – so you can find the most trustworthy options available. We also recommend Casino Sites USA which reviews some of the New Jersey online casinos.
DFS players usually like sports betting also and we have a couple of resources for you. Check out MobileBetApps.com which reviews the best sports betting mobile apps and sites.
Also visit Betting Sites USA for the most trustworthy US-friendly online sportsbooks.
For UK sports bettors, we recommend visiting William's Promo Codes. Redeem the Ladbrokes promo code BONUSBETS for a free £25 sports wager!
You can find all the latest Ladbrokes promo codes here.