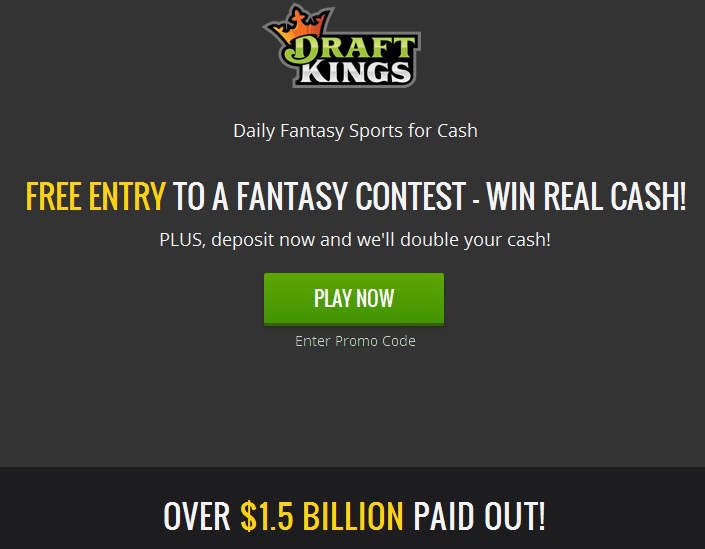 Receive a free contest entry when registering a DraftKings account! Refer your friends to earn commissions!
CLICK HERE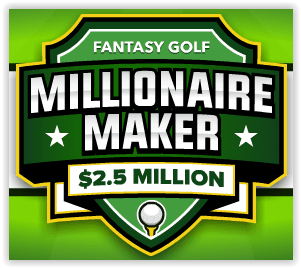 As Featured On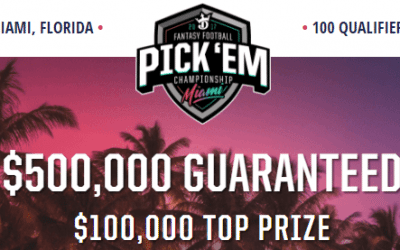 Play in the DraftKings $500,000 Fantasy Football Pick'Em Championship live in Miami, FL!
100% Satisfaction Guarantee
100% Legal to Play for Real Money in the US and Canada
Draftkings Review
DraftKings.com is one of the top two largest Daily Fantasy Sports site on the market. Founded in 2012, this U.S. company, based out of Boston, MA, is exponentially growing as is the daily fantasy sports industry itself. In 2014, DraftKings received over $75 Million in outside funding to increase its industry market share and become one of the absolute top daily fantasy sports sites that there is. With the additional funding, DraftKings acquired and absorbed former competitor, DraftStreet, and shortly thereafter, acquired another company, StarStreet.
DraftKings also has made its media presence known by actively advertising on television and radio during the National Football League (NFL) season. DraftKings have also been featured in the Wall Street Journal, the Boston Globe, BusinessWire, Forbes, and TechCrunch.
DraftKings has paid out over $1 Billion in 2015 alone! Currently, DraftKings offers contests for the National Football League (NFL), Major League Baseball (MLB), the National Basketball Association (NBA), the National Hockey League (NHL), the Canadian Football League (CFL), Professional Golfers Association (PGA), Soccer (SOC), Mixed Martial Arts (MMA), and NASCAR (NAS).
DraftKings offers a wide variety of game types which you can play for free or for entry fees starting as low as $0.25! DraftKings also provides multiple weekly freeroll tournaments which can be entered into at no cost to you. The freerolls are a great way to get familiar with the intuitive game interface and scoring formats.
With such phenomenal growth in such a short period of time, DraftKings action is never lacking during the NFL season, and with such a large selection of game types and huge cash prize payouts, DraftKings is definitely one of the top, if not the top destination for daily fantasy sports action.
Billion Dollars Paid Out Last Year!
Million Dollars Guaranteed, Biggest Tournament in the Industry!
Legal in the United States and Canada!
Sports You Can Play, Including NASCAR, MMA, and Golf!
Signing Up at DraftKings & Making a Deposit
Signing up is very easy, just click here to visit the DraftKings website.
Simply enter your Username (choose wisely as you will not be able to change this), your email address, your password, select your respective country and state and check the "Terms of Use" checkbox and the checkbox confirming your age. Promo codes are no longer needed to receive complete full site benefits! Click on the orange "Register" button and that is it! Congratulations on creating your Draftkings account!
Deposit Methods:
Depositing funds into your DraftKings account is very easy and quick. Simply click on the "gear" icon in the upper right hand corner of the screen. A drop down box will display various links in red. Select the "My Account" link which will open your account information. Click on the orange "Deposit" button and then select your funding option preference. DraftKings accepts the major credit or debit cards (Visa, MasterCard, American Express, and Discover). DraftKings also accepts PayPal.
Eligibility Requirements:
You must be at least 18-21 years old (depending on state) and be a legal resident of the United States or Canada to enter money contests and win cash prizes, with a few exceptions. To view the current list of DraftKings blocked states, click here. You may only have one account on DraftKings.
If you are a resident in the United Kingdom (U.K.), you must be at least 18 years old.
Click here to learn more about the DraftKings promo for new players!
DraftKings Interface & Usability
The DraftKings interface is rather simple to use and is designed for time saving convenience.
For example, you can create and save a particular lineup for a chosen start time once, and then you can use this same lineup for multiple contests for that start time without ever having to recreate it again! To do this, in the main Lobby tab, click on the "Create a Lineup" link, then, select your sport.
Next, you can then create your own lineup for the available start times. This makes it very fast and convenient to create and save a single lineup to use for multiple contests for that week. If you like your one lineup for 5 upcoming contests, you do not need to make 5 separate lineups.
There is also a global player swap feature which will allow you to swap the same player in multiple lineups all at once. This feature works for multiple lineups for the same start time. To keep your salary cap requirement integrity, only players with a salary equal to or less than the selected player will be shown. This is pretty slick for last minute changes across the board.
DraftKings has this "Late Player Swap" feature that allows you to edit your roster in a particular contest as often as need be up until 5 minutes before THAT player's game time. Did you catch that? If your contest started because one of your early players games started, it does not mean your entire contest is locked!
Your afternoon or prime time players can still be replaced with another player whose game has not yet started. This is critical to account for recent injury news or sudden inactive postings, or if you just decided to change your mind on a particular player. All users should be aware of this very unique feature as this could end up being a deciding factor in your contests!
You can quickly view all of your lineups by clicking on the "My Lineups" tab to the right of the "Lobby" tab up on the top of the page. The "My Contests" tab to the right of the "My Lineups" tab will show all your current live, upcoming, and historical contests.
DraftKings no longer allows external script programs on the site, but have added features for downloading a .csv file to manually create your own lineups for a particular contest's sport and start time. After manually creating each of your lineups in the .csv file (a maximum of 500 are allowed), you can upload this file to the DraftKings site which will create these lineups in their interface.
We did not find this download/upload feature to be any better than creating lineups in their interface, as you have to create each lineup manually regardless.
Once a lineup has been entered into a contest, you have the option to "Bulk Enter" this particular lineup into numerous contests available in the lobby. This time-saving feature has been found to be beneficial and is much faster than entering each contest and then selecting your particular lineup for this contest one at a time.
You can select your sport towards the top of the page and then you can also filter your desired contest start times, contest types, contest size, and/or entry fee amounts. The filtering section is to the left side of the page.
Depending on which contest type tab you selected, the available contest list below will specify the type of sport you selected, if not all, the contest name, the number of current entries and the entry size cap ("G" indicates a guaranteed prize pool), the entry fee, total prize pool, and start time. To join any contest, simply select the "Enter" button next to that particular contest, and you are good to go.
Basically, anything to do with any contests can be done from the main lobby page. Other detailed information like your account info, the support "Contact Us" link, or Frequently Asked Questions (FAQ),etc. are all found by clicking on your icon in the upper right hand corner of the page to the left of the "Deposit" button.
You can also create your own custom public or private contests from the Lobby page. Click on the "Create a Contest" link, select your sport then choose your start time, select either Head-to-Head or League contest, choose public or private availability, and then design your entry options. This is also very quick and easy to do.
The DraftKings interface is really slick and allows you to do whatever it is you need to do without wasting time duplicating steps when our time is much better served creating our lineups!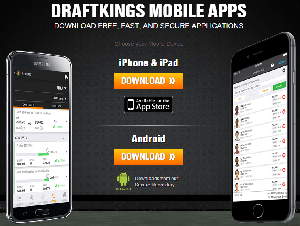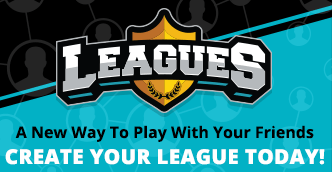 DraftKings provides the following types of contests:
Guaranteed Tournaments:
Guaranteed prize pool tournaments carry the most action of all the contests because they have the largest entry sizes and largest cash prize pools. The cash prizes offered for these contests are guaranteed, meaning that even if the entry size cap number is not completely filled by entrants, these contests will run regardless with the specific cash prize pool for that contest being paid out.
Qualifier Tournaments:
Qualifier tournaments offer the winners entry tickets or "seats" to larger cash stakes tournaments, very similar to satellite tournaments for poker. For example, a particular qualifier contest may give the top 1,000 winners entry tickets to the next larger tournament. Winning tickets for qualifier tournaments is an inexpensive way to get into big money contests.
Head to Head (H2H) Contests:
Head to Head contests are you vs. another player. That is it. The winner simply takes the total cash prize. You may accept an open challenge in the lobby or create your own contest for whatever stakes you like. Think you are better than a friend or a particular player? This is a great way to find out!
50-50 Contests:
Winning in a 50-50 contest will double up your stake (less the rake). All you have to do to win is to place in the top half of all the entrants.
League Tournaments:
League tournaments are smaller than the GPP tournaments but offer varying entry size caps, entry fees, and payout structures. The variety of options in league tourneys allows you to zero in on a specific type of league size you want to play in.
Multiplier Tournaments:
Multiplier tourneys for winners will either triple up their stake (X3) or win up to ten times their stake (X10).
Steps Tournaments:
Steps Tournaments allow you the opportunity to win a step 1 of a maximum 4 steps for as little as $2. Win at this level, and you will win entry into the next step level. You can also just buy your way into the higher step with a higher entry fee if you have not won entry in a previous step.
The NFL Steps tournament structure works as follows:
NFL Step 1 has an entry fee of $2 or a Step 1 ticket. NFL Step 1 has an entry size cap of 10 entrants and winnings pay outs are 1st and 2nd place win a Step 2 ticket and 3rd and 4th place win a Step 1 ticket.
NFL Step 2 has an entry fee of $7 or a Step 2 ticket. NFL Step 2 has an entry size cap of 5 and the winnings pay outs are 1st place wins a Step 3 ticket and 2nd place wins a Step 2 ticket.
NFL Step 3 has an entry fee of $25 or a Step 3 ticket. NFL Step 3 has an entry size cap of 5 and the winnings pay outs are 1st place earns a Step 4 ticket and 2nd place takes a Step 3 ticket.
NFL Step 4 has an entry fee of $88 or a Step 4 ticket. NFL Step 4 has an entry size cap of 3 players and the cash prize pool winners take $200 for 1st place and $40 for 2nd place.
Contests at each step level are available every day. Also, if you win a step ticket in any sport, you can use that ticket to enter a step tournament for any other sport at that same step level. For example, if you win an NFL Step 2 ticket, you could use that ticket to enter an NBA Step 2 tournament. The NFL steps tournament is a fantastic way to turn $2 into $200 in only 4 steps!
Beginner Tournaments:
The Beginner tournaments are only available for players who have not exceeded playing in 50 contests per sport. Want to take on some noobs? You have 50 chances to do that right here!
Season Long Leagues:
You can create your own private season long leagues. Simply create your own free league and then invite your friends on DraftKings to join your league.
The contests types you can create can be customized however you wish. Leagues can be free or have a cash entry fee. The league leader board feature tracks your performance against your league members. The recurring contest mode feature allows you to set up the same weekly contest once, without having to recreate that contest for future weeks again.
Creating Your DraftKings Fantasy Team
Contest Rules and Scoring Format:
Classic Salary Cap:
Each contest will have a salary cap amount which is fixed at $50,000. This salary cap amount is used to fill your 9 player roster. This roster consists of 1 Quarterback (QB), 2 Running Backs (RB), 3 Wide Receivers (WR), 1 Tight End (TE), 1 Flex spot which may be filled by a RB, WR, or a TE, and 1 Defense/Special Teams (DST) spot.
The salary cap amount spent on these positions may be less than $50,000 but it cannot exceed $50,000. Each team you create must have players from at least two different NFL teams and these players must be playing in at least two different football games. Lineups that do not meet these requirements will not be saved until corrected.
Pick 'Em:
There is no salary cap to budget for or salaries assigned to any players in this format. There are eight tiers, with each tier containing a list of comparable players to choose from. You must select one player from each of the eight tiers to fill your roster. That's it!
Injury Glossary:
DTD = Day to Day
7Day = 7 Day Disabled List (DL)
15Day = 15 Day DL
60Day = 60 Day DL
IR = Injured Reserve
P = Probable (25% chance that player does not play)
Q = Questionable (50% chance that player does not play)
D = Doubtful (75% chance that player does not play)
O = Out (100% chance that player does not play)
Opp = Opponent
FPTS = Fantasy Points
FPPG = Fantasy Points per Game
OPRK = Opponent Rank for avg FPTS allowed against that position
PMR = Player Minutes
PIR = Innings
PHR = Holes Remaining
P = Played (Number of Players)
YTP = Yet To Play (Number of Players)
How to Score Points
Review the charts below to understand how your players will earn you fantasy points on offense, and how your team defense and special teams can earn your points.
This is the scoring system used by DraftKings on all their fantasy football leagues. Note: DraftKings uses a 1 Point Per Reception (PPR) scoring system.
Live Scoring & Scoring Legend
DraftKings offer real time, live scoring so you can follow the progress of your team(s) in all of your leagues while the action is happening!
DraftKings Legend for live scoring:
PaYds = Passing Yards
PaTD = Passing Touchdown
300+Pass = Passing Yards of at least 300
RuYds = Rushing Yards
RuTD = Rushing Touchdown
100+Rush = Rushing Yards of at least 100
Rec = Receptions
RecYds = Receiving Yards
RecTD = Receiving Touchdown
100+Rec = Receiving Yards of at least 100
FUM = Fumble Lost
SACK = Sacks
INT = Interceptions
BLK = Blocked Kick
DFR = Fumble Recovered
RTD = Return Touchdown
0 PA = Points Allowed (Points Allowed = 0)
1-6 PA = Points Allowed between 1-6
7-13 PA = Points Allowed between 7-13
14-20 PA = Points Allowed between 14-20
21-27 PA = Points Allowed between 21-27
28-34 PA = Points Allowed between 28-34
35+ PA = Points Allowed of at least 35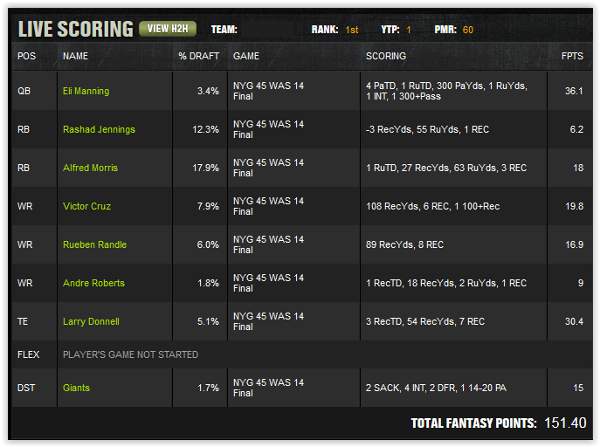 Withdrawing funds from your DraftKings account is as simple as making deposits. You do this from the same exact "My Account" form that you used to make deposits. Simply press the "Withdraw" button on your "My Account" form.
There is a $20 minimum requirement for each withdrawal. Draftkings will first refund withdrawal amounts to the original method option. For example, if you originally deposited $600 using an American Express card, your first withdrawal amounts up to $600 will be refunded back to this card. Any additional withdrawal amounts over this amount will be paid out by PayPal or by check.
DraftKings processes all withdrawals from Monday – Friday 9:00 AM to 5:00 PM EST. This transaction may take anywhere from 2 to 7 business days. Check processing may take up to 7 business days.
Regarding tax purposes in the U.S., DraftKings will issue 1099 forms to any user with net profits of at least $600 for the calendar year. Your SSN will be required for this purpose.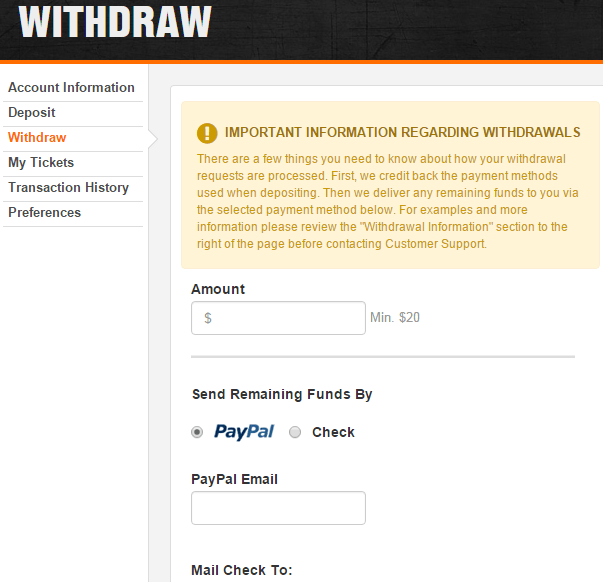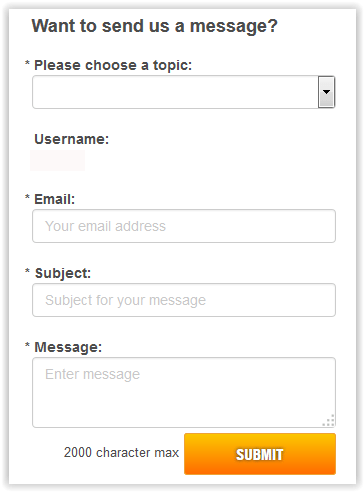 DraftKings support can be contacted through the website by clicking on the "gear" icon in the top right corner and then selecting the "contact us" link. You can also select the "contact us" link at the bottom of the page. The contact form that opens next will require you to select a topic of your message, type in your subject, and enter your message.
Support can be contacted seven days a week. Support hours are Monday through Friday from 9:00 AM to 11:00 PM EST and Saturday and Sunday from 10:00 AM until 7:00 PM EST. Support can also be contacted via email at support@draftkings.com or by mail at:
DraftKings, Inc.
225 Franklin St.
26th Floor
Boston, MA 02110
Enter your own DraftKings review below, our guests will appreciate your feedback!
---
---
DraftKings
DraftKings Fantasy Football Review
DraftKings Fantasy Football
SKU
Fantasy Football
UPC
Fantasy Football
Model
Fantasy Football
My DraftKings Review
I just drafted my first team and it was for the PGA!! haha! I have a team playing right now at Quail Hollow - pretty awesome. Go Stenson! Drafting the team was real easy, I tweaked the lineup a few times and that was easy too, you can automatically apply your lineup changes to all the contests you are in with one click. The bonus is really a refund, which is pretty well explained on this page, but it basically acts as a 4% rebate on the fees you pay. Other than that, everything is straight forward and very, very fun. DraftKings is legit!

---
Draft Kings Review
I tried playing in the fantasy UFC event this past weekend since I was ordering it anyway - UFC 186 with D Johnson - and it was a blast. Made the entire event 100% more exciting to watch - every single fight down to the prelims. I'm not sure there's a whole lot of strategy yet, will you guys post something for UFC strategy? I got lucky with Alexis Davis and having her on my team was key, ended up winning enough money to pay for the PPV!!! Anyway, thanks for introducing me to fantasy UFC and DraftKings - was killa and can't wait for the next UFC event!

---
MLB Freeroll
Hi, I just saw the $15k MLB free contest advertised here and wanted to say thanks, I can't wait for the baseball season and I always wanted to try this daily fantasy baseball thing. Playing for free with a chance to win some real dough is very cool!

---
Fantasy MMA is here!
I read this review and thought I'd sign up and try playing fantasy mma. It was awesome, and I killed it! Took a couple minutes to create my initial lineup, but then I kept tweaking it all the way up until the day of the Maia vs Laflare fight. I picked Maia since he was cheap and he ended up winning! I won some money in every tournament I had my lineup in! Really looking forward to playing fantasy football here.

---
Excellent
OMG Draftkings is so awesome! So I know it's not football season right now but I'm having a blast playing PGA and MMA leagues! I won over a $100 this weekend! The big tournaments are pretty tough but I played in some $1 and $2 50/50 leagues and won in all of them! I highly recommend the site. Can't wait for NFL season but it's going to be crazy with PGA, MMA, and football contests going on every weekend!

---
DK is Tops!
I love DraftKings and think it's the best site for fantasy football. I love how they give you a flex position instead of a lame kicker like Fanduel. You can also make last minute changes (5 minutes) prior to the game when you learn about the latest injuries.

I also love playing fantasy UFC at DraftKings! Check them out, pretty fun, I'm up about $500 since the beginning of the 2014 football season 🙂

---
Last updated: August 15, 2017 at 17:21 pm