The bye week is the week an NFL team does not play a game.
*Note – The 2021 NFL Bye Weeks start in week 6 and conclude at the end of week 14.
Week 7 has 6 teams on bye, so be sure to plan accordingly.
Here is the NFL 2021 bye week schedule:
Week 6 – Atlanta Falcons, New Orleans Saints, New York Jets, San Francisco 49ers
Week 7 – Buffalo Bills, Dallas Cowboys, Jacksonville Jaguars, Los Angeles Chargers, Minnesota Vikings, Pittsburgh Steelers
Week 8 – Baltimore Ravens, Las Vegas Raiders
Week 9 – Detroit Lions, Seattle Seahawks, Tampa Bay Buccaneers, Washington Football Team
Week 10 – Chicago Bears, Cincinnati Bengals, Houston Texans, New York Giants
Week 11 – Denver Broncos, Los Angeles Rams
Week 12 – Arizona Cardinals, Kansas City Chiefs
Week 13 – Carolina Panthers, Cleveland Browns, Green Bay Packers, Tennessee Titans
Week 14 – Indianapolis Colts, Miami Dolphins, New England Patriots, Philadelphia Eagles
The 2021 NFL schedule is available here.
Sortable Bye Week Table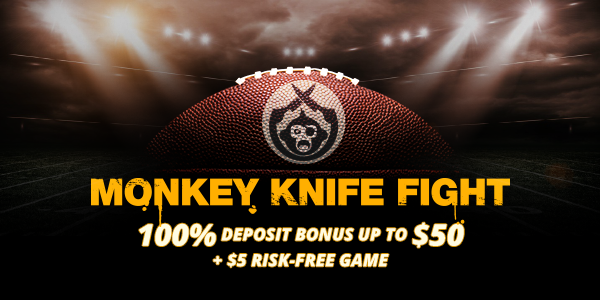 Read about our Monkey Knife Fight bonus code offer here!