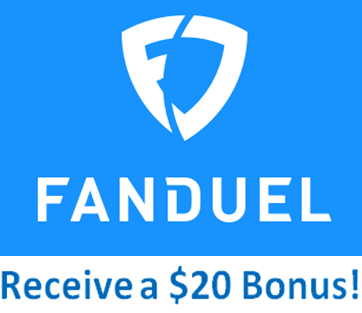 As seen on ESPN and other TV networks. Take advantage of this opportunity to receive a $20 deposit bonus!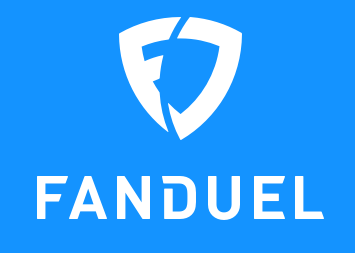 No deposit required! You can play for free and check it out before playing for real money.

Draft your team and qualify for the FanDuel World Fantasy Basketball Championship with a $2.5 Million Guaranteed Prize Pool!
100% Legal to Play for Real Money in the US and Canada
Fanduel Review
FanDuel.com is one of the top two biggest daily fantasy sports sites on the internet. Since introducing itself in 2009, FanDuel has exploded onto the daily/weekly fantasy market with exponential growth. In 2011, FanDuel paid out $10 million in prize money. In 2012, it paid out over $50 million. In 2013, pay outs exceeded $150 million. For 2014, total prize payouts were $560 million. In 2015, cash payouts had exceeded $2 Billion. With over 600,000 game entries available per week on average, and over $10 Million weekly pay outs during the NFL season, obviously the action and money is here.
Interested in playing your favorite fantasy sport to make a few bucks, or to become a millionaire (and the immortality of being a fantasy god)? Then FanDuel is the perfect place to start making all your fantasy dreams come to fruition!
Billion Dollars Paid Out Last Year!
Different Sports Offered!
Million Dollars Paid Out Weekly!
Signing up is very simple. Just click here to visit the FanDuel website.
Then fill in your name, email address, username, and password. No promo codes needed! Just click through any of our links!
New Player Promo
New depositing players will receive a $20 bonus with a minimum $20 deposit!
Deposit Methods:
You may deposit money into your FanDuel account using Paypal or Visa, MasterCard, and Discover credit cards (other cards such as American Express can be used via Paypal). A minimum deposit of $5 is required. Users are only allowed one account, so make it count! To be eligible to sign up, you must be at least 18-21 years old (depending on state) and a resident in the USA or Canada. For a current list of FanDuel blocked states, click here.
After you have successfully registered your account, just enter your email and password to log in to the site. You must be logged in to view any content on the FanDuel site.
Click here to learn more about the FanDuel welcome promo!
Creating Your Fantasy Team
Salary Cap:
You must fill in all required positions at or below your salary cap amount which is $60,000 on FanDuel. Your fantasy football team consists of nine positions – one QB, two running backs (RB), three wide receivers (WR), one tight end (TE), one flex (RB/WR/TE), and one team defense (D). FanDuel has replaced the Kicker position with the flex spot.
Super Flex:
Similar to the salary cap format, the Super Flex lineup format replaces the third Wide Receiver position, the Kicker position, and the Defense position with a Flex (RB/WR/TE) position and a Super Flex (QB/RB/WR/TE) position, for a total of eight positions to fill.
All positions require an appropriate player. That's it!
FanDuel Mini:
This format requires only 5 slots to be filled. You must select one QB, two RBs, and two WRS. The mini unlimited format does not use salaries or a salary cap. Just choose any player you want to fill the above positions. That's it!
FanDuel has updated news reports for players next to their names. This info is provided by Rotowire, which provides player summary info, player game log statistics, and the all-important player news. This is really convenient to keep up to date with player availability, injury reports, or legal status.
How to Score Points
Now that you have your team, it's up to them to earn you more points than the other teams in your league! Review the charts below to understand how your players earn you points as well as how your team defense earns points. Note: FanDuel uses a .5 Point Per Reception (PPR) scoring system.
Live Scoring & Scoring Legend
FanDuel offers live league scoring during the sporting event so you can see in real time how you are doing. Click on the Live link in the header and then click on the ongoing league contest to see your team's live scoring.
Legend for live scoring:
PaY = Passing Yards
PaTD = Passing Touchdown
RuY = Rushing Yards
RuTD = Rushing Touchdown
Re = Receptions
ReY = Receiving Yards
ReTD = Receiving Touchdown
FL = Fumble Lost
XP = Extra Point
FGu20 = Field Goal under 20 yards
FGu30 = Field Goal under 30 yards
FGu40 = Field Goal under 40 yards
FGu50 = Field Goal under 50 yards
FGo50 = Field Goal of at least 50 yards
S = Sacks
I = Interceptions
B = Blocked Kick
FR = Fumble Recovered
RTD = Return Touchdown
PA = Points Allowed

FanDuel offers various types of contests for its fantasy sports, which include Head-to-Head, Multiplier Leagues, 50/50 leagues, Tournament contests, and Season-Long leagues. As with all the contests, you can play for whatever stakes you want, or none at all if you just want to practice or play for free.
You cannot see your opponent's lineup nor can they see yours prior to the game start time. You can change your lineup at any time before the contest starts. To do this, click on the Upcoming tab up top, next to Lobby, select your team, and edit as you please. Save your new lineup, and good luck!
Head-to-Head games are your team vs. one other opponent, for whatever stakes you would like to make. You can enter an open challenge or you can create your own challenge and the winner takes the prize pool.
Leagues can be entered or created by you with a standard format of an entry fee and a capped league size. So the more players that enter a particular league game, the bigger the prize pool. Payout structures are similar to that of poker, in that the higher you place, the bigger your payout. League games will identify the payout structure for that particular game.
50/50 leagues are similar to the standard leagues, except for the payout structure. Everyone who finishes in the top half of this type of league, will double their stake, less the rake and everyone in the bottom half loses their stake.
Tournament matches are generally the most popular contest type as they have the largest sizes and prize payouts. Also, there are many types of tournament types which may include survivor, satellite tickets (similar to poker tournaments), double-ups, triple-ups, etc.
Next to some of the tournament games, you may see up to two different icons next to those games. The orange "M" icon stands for multi entry, so you can enter as many teams as you would like in that particular tournament. The blue "G" icon stands for guaranteed payout. This means if the size limit for a contest is not completely filled, the contest will guarantee payout anyway.
Season Long leagues can be created with at least three contestants. FanDuel refers to these leagues as Friends Mode. Simply create your own free season long league and invite at least a couple of friends to join. These leagues can be for free, or you can add a cash entry fee. For cash entry leagues, you can choose your payout structure, and as the commissioner of your league, you won't have to deal with collecting buy-ins or scheduling a draft date. That's it!
Before you can make withdrawals, you will need to have staked amounts at least equaling your original deposit amount. For example, if your original deposit was $200, you would need to have staked at least $200 in contests in aggregate.
Withdrawal is simple. For PayPal accounts simply enter the amount to withdraw and your PayPal email address. Requests are processed within 48 hours, or the next business day if this request was made on the weekend.
If you do not have a PayPal account, FanDuel will send a check to USA and Canada players.
For checks, add the withdrawal amount and enter the address where the check is to be sent to a support ticket which can be found under the Help tab, and then click on the support tab, and then click on Submit support ticket. Processing and delivery of checks will usually take 7-10 days.
For U.S. tax purposes, if you earn net winnings of at least $600 for the calendar year, FanDuel will issue you a 1099. In this case, they will require your SSN to issue the 1099. For withdrawals over $250, your SSN will also be requested for this purpose.
To contact support, simply click on the Help tab up top next to your username, click on the support tab which has an extensive FAQ (Frequently Asked Questions) section, and then click on the submit support ticket button.
This form automatically fills in your name, email address, and your username. Simply fill in the subject and your message, and the support ticket will generally be responded to within 12 hours. FanDuel support can also be contacted by email at [email protected].
Check out our DraftKings vs. FanDuel review here.
Supported Fantasy Sports Leagues & Seasons
FanDuel provides weekly and daily fantasy sport games, depending on the sport. Currently, FanDuel offers the following sports: National Football League (NFL), National Basketball Association (NBA), Major League Baseball (MLB), National Hockey League (NHL), Golf (PGA), and Soccer, when in season.

The NFL pre-season occurs in the month of August, where all the teams play at least four pre-season games during this time. The 16 game (per team) long regular season starts in September and concludes at the end of December. Playoff games, including wildcard, divisional rounds, to conference championships, take place in January, culminating with the Super Bowl which occurs on the first Sunday of February.

NBA Fantasy Basketball Leagues
The NBA pre-season occurs during the first three weeks of October. The 82 game (per team) regular season begins at the end of October and concludes mid-April the following year. The playoffs then start in mid-April and will conclude with the NBA finals in the beginning of June.
The NBA season offers tons of action every day. Create a new fantasy team as often as you like and play daily!

MLB Fantasy Baseball Leagues
The MLB 162 game (per team) regular season typically begins on the first Sunday in April and ends on the first Sunday in October. The MLB post-season takes place during October culminating with the World Series at the end of October.
Baseball is way more fun to watch with a fantasy team!

NHL Fantasy Hockey Leagues
The NHL 82 game (per team) regular season generally runs from early October through early April. The Stanley Cup playoffs then begin in mid-April and conclude in June.
Do Canadians know more about hockey than US fans? Compete to find out!

College Fantasy Football Leagues (Currently not offered)
The College Football schedule generally starts in late August/early September and ends late November/early December. The Bowl schedules then occur from late December through early January.
You follow college players? Take advantage of your knowledge in the college football leagues.

College Fantasy Basketball Leagues (Currently not offered)
The College Basketball schedule season begins in November and ends when the March Madness tournament concludes, usually the first week of April.
Action junkies and college bball fans will love the college basketball fantasy leagues.
Ready to play?
Draft your fantasy team today and win!
Write your own Fanduel review below, our users will appreciate your feedback!
FanDuel Fantasy Football Review
Average rating:
9 reviews
Aug 8, 2020
Terrible Service
I created an account and made a deposit but then the site kicked me out and would not let me log back in or reset password. CS said that I must have accidentally created a PA account??? I deleted this account and successfully created a CO account only to find out that I could not deposit because site could not verify my location lol! Got an error message saying that this is not unusual and to contact customer service. After being disconnected from chat many times a rep eventually told me that there is nothing they can do and then disconnected.
May 30, 2015
FanDuel is Legit
FanDuel is totally legit and I am really enjoying playing here. Depositing and withdrawing funds is immediate and painless (compared to those online poker sites). I've been casually playing MLB and it's cool but I'm just waiting for NFL season!!! Gonna make a big deposit then and make some cash! Big fan of FanDuel!
May 14, 2015
Fan Duel Review
Fan Duel is awesome, I don't know what these negative reviews are all about. The bonus offer may be a little deceptive - they don't just give you $200 for signing up LOL who would believe that anyway!! - what they give you is a refund on the fees you pay up to a certain amount. It's simple, jesus take 30 seconds to read the details! It's described on this site for gods sake!! Fan Duel simply makes sports I'm watching a thousand times more fun. I love playing the 50/50's, and I'm up since joining. I highly doubt Fan Duel is rigged or a scam with NBC, Comcast and other big investors!! Jeez, relax people, understand the welcome bonus and don't blame the site for being rigged just because you can't win!
May 8, 2015
FanDuel Bonus Rigged
Beware.....The "sign-up bonus" they bait you with is a total joke....



They heve been running this "bait and switch" offer on all the ESPN networks for months....



They are embroiled in several Lawsuits at the present..



They offer to "match " your deposit "dolar for dollar" up to $200...



so u deposit $200 they match it? WRONG.



You would have to deposit and probably Lose $5000 USD to finally get your lousy $200..



What a ripoff.....and I personally believe they have insiders that "win" the larger payoffs with robots on their site..



Be VERY careful with regard to sending them money...chances are you will never see a penny..



I will be suing Fanduel shortly and will advise of my progress....



As far as I am concerned they are guilty of wire fraud and False Advertising for starters.



Rating - stars....if there is such a thing
Mar 5, 2015
Not a Scam Dude
Hey KingKirk, it's called Multi-Entry. It's the orange M symbol listed next to any contest. You are allowed to submit multiple entries in the same contest. And why would someone want to do this? To win more money of course. If you have a single lineup and want to invest $10 on that lineup, you can enter that lineup 10 times in a $1 contest, or 5 times in a $2 contest, or whatever the player wants. And just because that player has a good lineup and wins, which means all his entries win, that DOES NOT MEAN it's a scam. It means he won and you suck. Please learn the rules before posting complete BS, thank you.
Mar 4, 2015
Fanduel Is A Scam
I gave Fanduel NO RATINGS. Why???? I played Fanduel in The Beginning to make some extra cash, however what I saw even after I just played to see what would be The Outcome!!!! I'm not saying Fanduel isn't legit, but however what I'm saying is that Fanduel Stacks The Odds against You.... Example, Why???? Would someone play 5games from the same league and pick all The Same Players???? And win all 5games in The Same League and end up TOP 10....
Nov 3, 2014
Addicting!
I absolutely love Fanduel! I play $1 tournaments and 50/50 tournaments and my money has lasted a long time. I'm still trying to develop my strategies to be a consistent winner - which is much harder than you think - but it's a lot of fun trying. Have not had any issues or problems. Highly recommend!
Nov 1, 2014
Almost a week still can't login
Almost a week since joining and still can't login to account. Tech support just waits a day and sends an email asking if I want another pw reset email. When I reply with a time frame, never get a reply!!! Then I have to remind them again I still can't login and the process repeats itself.
Sep 14, 2014
FanDuel is Amazing!
I just tried FanDuel today, playing in the weekly $1,000 freeroll and it's really cool. Very simple and streamlined interface. Makes football even more fun to watch! I'll be depositing some real money before MNF! Two thumbs up for FanDuel.