The bye week is the week an NFL team does not play a game.
*Note – The 2019 NFL Bye Weeks start in week 4 and conclude at the end of week 12.
Here is the NFL 2019 bye week schedule:
Week 4 – New York Jets, San Francisco 49ers
Week 5 – Detroit Lions, Miami Dolphins
Week 6 – Buffalo Bills, Chicago Bears, Indianapolis Colts, Oakland Raiders
Week 7 – Carolina Panthers, Cleveland Browns, Pittsburgh Steelers, Tampa Bay Buccaneers
Week 8 – Baltimore Ravens, Dallas Cowboys
Week 9 – Atlanta Falcons, Cincinnati Bengals, Los Angeles Rams, New Orleans Saints
Week 10 – Denver Broncos, Houston Texans, Jacksonville Jaguars, New England Patriots, Philadelphia Eagles, Washington Redskins
Week 11 – Green Bay Packers, New York Giants, Seattle Seahawks, Tennessee Titans
Week 12 – Arizona Cardinals, Kansas City Chiefs, Los Angeles Chargers, Minnesota Vikings
Week 10 has 6 teams on a bye. This may be problematic for fantasy players if they do not have adequate depth to cover the position voids so draft accordingly!
The 2019 NFL schedule is available here.
Sortable Bye Week Table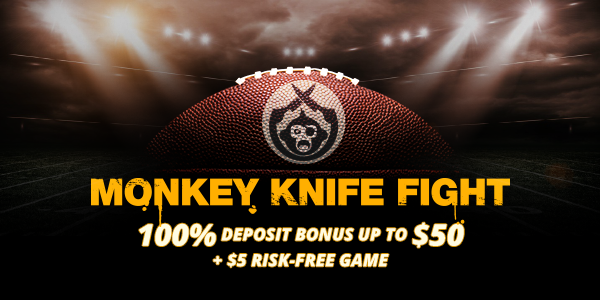 Read about our Monkey Knife Fight bonus code offer here!
Fantasy Footballers.org
Average rating:
3 reviews
Nov 18, 2019
Thanks
This helped me a lot for my fantasy! GO VIKINGS!!!
Oct 6, 2019
Awesome tip on wk 10
Great!!
Sep 11, 2019
Great help
Thanks Guys...