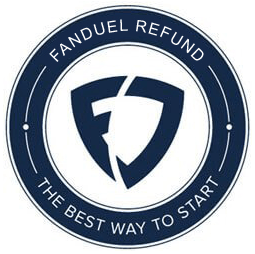 Receive up to a $120 credit if you don't win your first contest – PLUS exclusive access to tournaments and freerolls – as seen on ESPN, Fox Sports, and other TV networks.
Join Now!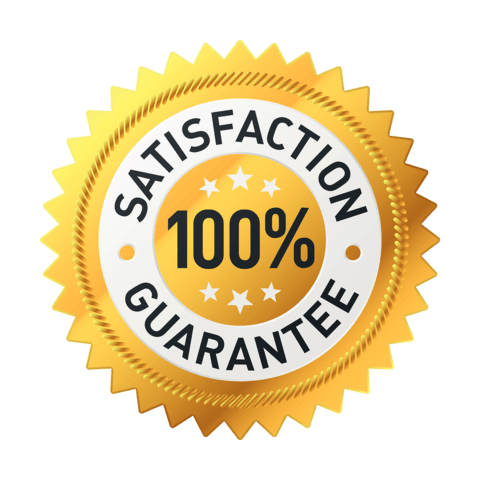 Didn't love FanDuel? No worries, with the FanDuel Satisfaction Guarantee, receive a refund on your first contest of up to $100 if you are not perfectly satisfied!
Join Now!
| FanDuel Promo | Promotion Description |
| --- | --- |
| Entry Fee Credit Offer | If you lose your first contest, get a free credit to play again! |
| Details | Make a deposit and enter your first contest. If you do not cash, you will receive a credit worth the amount of the contest entry. |
| Value | Value of the entries are determined by the deposit amount. The maximum credit is $120 for a deposit of $200 or more and entry into a $120+ contest. |
| Rules | You will receive your free credit within 72 hours. You must play through the deposit amount before processing a withdrawal. |
As Featured On

| | |
| --- | --- |
| | FanDuel also offers a 100% money back guarantee. If you lose your first league contest and do not like FanDuel for whatever reason, you can get a full refund up to $100! |
New depositing players will receive up to a $120 refund if you don't win your first contest!
To maximize the free contest entry fee amount, you will need to deposit a minimum amount of $200.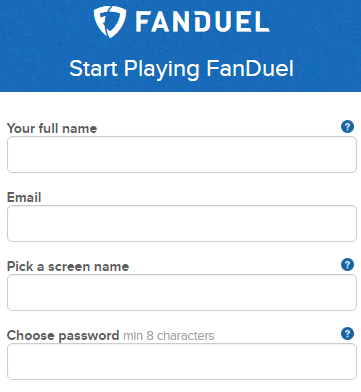 Making a Real Money Deposit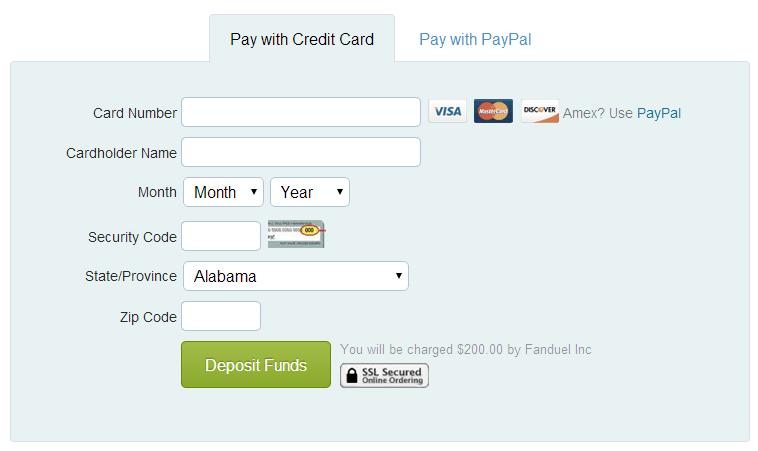 Once you've registered your account, FanDuel will ask you how much you plan on depositing.
After depositing, you are eligible to receive the latest FanDuel promo offer.
FanDuel accepts credit card deposits via Visa, MasterCard, and Discover. FanDuel also accepts deposits via Paypal (which you can use to process Amex payments).

How the FanDuel Promo Works
The FanDuel $120 Refund Promo is offered to new players that create an account and make a deposit of at least $200.
If you lose your first contest, you will receive an automatic credit to your FanDuel account within 72 hours of the contest completion.
We recommend depositing $200 to maximize the bonus amount.
The FanDuel website mentions "Deposited funds must be used to enter contests." This means that you must play through the entire deposit amount prior to requesting a withdrawal.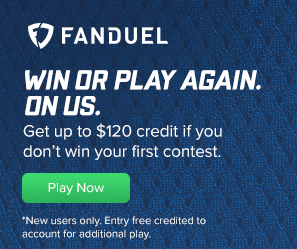 FanDuel Promotions & FanDuel Points (FDP)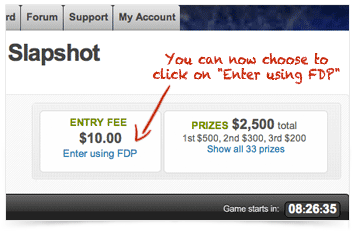 FanDuel promotions will vary throughout the year. FanDuel often offers a weekly freeroll contest. Freerolls do not require an entry fee to play.
FanDuel allows you to earn FanDuel Points (FDP) each month and these points are earned every time you play a cash game, whether you win or lose.
The number of points you get for entering a contest is displayed on the draft screen before you enter. FDPs earned can be used to enter cash games instead of spending your cash. Simply select a contest to enter and on the draft screen you will see a link under the entry fee that identifies how much FDPs this will cost to enter instead of using cash.
Bronze $1,500 FDP Freeroll - Requires 1,000 Monthly FDP
Silver $2,500 FDP Freeroll - Requires 5,000 Monthly FDP
Gold $4,000 FDP Freeroll - Requires 15,000 Monthly FDP
Platinum $7,000 FDP Freeroll - Requires 50,000 Monthly FDP
After accumulating enough FDPs in a given month, you may qualify to enter FanDuel's FDP freerolls. These FDP freerolls do not require you to spend FDPs to enter. If you have earned enough FDPs to qualify for the freerolls, you may simply enter and play these contests for free. These FDP freerolls will only be viewable in the Lobby if you have qualified to enter them.
For example, FanDuel could offer the following FDP Freerolls found to the left.
Once you have reached the minimum amount of FDP's, then you automatically qualify to play in the FDP freeroll. For example, if you have earned 15,200 monthly FDP, you may enter Gold, Silver, and Bronze freerolls for that month. The FDP freerolls are shown in the lobby a few days before the end of the month.
FDPs do not carry forward from month to month for purposes of qualifying for the FDP freerolls. FDPs cannot be redeemed for cash and the earning rate may vary at FanDuel's discretion.
FanDuel of course also offers huge guaranteed tournaments and other seasonal promotions. Visit our FanDuel Promotions page for the latest promotions!
Read our full Fanduel Review here.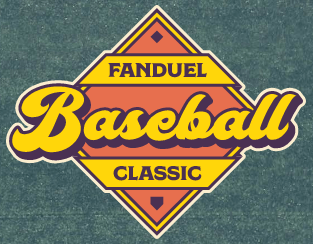 Draft your team and qualify for the FanDuel World Fantasy Baseball Championship on August 13, 2017, live in Chicago, IL!
Receive up to a $120 refund if you don't win your first contest!
Sign up to FanDuel and take advantage of this opportunity today!
Submit a Review!
---
---
FanDuel
FanDuel Promo Code
FanDuel Promo Code
SKU
Fantasy Football
UPC
Fantasy Football
Model
Fantasy Football
FanDuel Promo
Hi Jared, yes so our promo delivers EVERYTHING that any of the TV promos offer. You didn\'t miss out on anything, they are all the same - they provide a welcome bonus of $200. However, in addition to the maximum welcome bonus possible, we also provide exclusive free contests with real money prizes to our visitors.

---
FanDuel Promo TV
I saw a commercial for FanDuel but entered your promo instead of the one on TV - is there a difference or which one is better? I received the $200 bonus as described on this page so it worked but was curious on what I missed out on. Anyway, thanks and FanDuel rocks!

---
Works
Thanks for the promo code and the instructions. Worked flawlessly and now I need to work on earning my 200 bucks. Been playing MLB and having a blast!

---
Tough Bonus
Takes a lot of work to earn any of the bonus. This page describes the process accurately but it's still really tough. You basically get 4% back on what you spend. They should call it a refund instead of a bonus, but Fan duel is still great fun and I'll be staying.

---
$200 Bonus
Thanks for explaining how the Fanduel bonus actually works. Most sites seem to fool you into believing that they actually give you $200 cash just for playing - which is not true at all. I used your promo code and received my POTENTIAL bonus as you described on this page and that worked great, thanks. Playing on Fanduel is a lot of fun, I play little contests every single week and love it!

---
Last updated: June 30, 2017 at 13:38 pm